Oh my gosh, where did the semester go?! It seems like I was just drafting a posting to talk about spring, and now I'm already talking about the end of the school year! I hope your daughters all had a wonderful spring term, and a wonderful spring break.
As I'm writing, this is finals week when everyone is stressing about finishing papers and projects and taking final exams. I'm sure there is lots of stress eating, but there are also some great little things that the College and students do to provide stress relievers. Here's what our daughters were treated to during the last week of classes, courtesy of Sweet Briar:
It began on Monday, April 25, with free massages in Prothro. I'm sure there were lots of tight muscles that were grateful that day.
On Tuesday, the admissions office hosted Bagel Bash. After all, food is important fuel.
Thursday was Dog Therapy day at the library, always a big favorite! How can you not smile and relax a little when you're getting doggy love?
On Friday, it was time to de-stress with crafts in Reid Pit. Crafting is nice break from the mental intensity of studying.
Lantern Bearing, a wonderful tradition, was held Friday evening in the quad. Near the end of the year, seniors ask an underclasswoman to make a "lantern" for her. The students gather, seniors wearing their graduation robes and underclasswomen in white. To represent the four years the seniors spent at Sweet Briar, everyone walks around the quad three times and the seniors walk the fourth time around alone to represent their fourth year. The seniors then sit on the senior steps while the underclasswomen line the pathway and sing to the seniors, marking one of the last traditions the seniors participate in at Sweet Briar.
Things are intense with final exams this week. I'm sure you know that Sweet Briar's Honor Code enables our daughters to schedule when to take each exam during the week. What wonderful flexibility to have; I know many college students who wish they could schedule their own exams!
Sunday, May 1, was End Procrastination in Josey, with prize giveaways as incentives
Also on Sunday was Scream Night — yes, this is literally what it is called! On the night before exams begin, everyone gathers in front of the chapel to let out their stress in a scream as the bells chime 10 o'clock. The students also can pick up some study snacks.
Then on Tuesday, there was note burning in the lower quad. There's just something satisfying about burning those notes, like a final goodbye.
Exam snacks were available every day in the library.
Lastly, on Saturday was Floatopia and mason jar decorating at the Boathouse — time to relax and float away all that stress now that finals are over!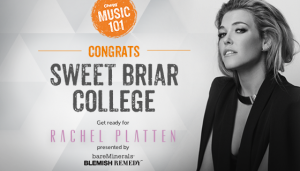 This year of course has an extra special treat – did you hear about the Chegg Music 101 contest?
According to the new release, "Sweet Briar College amassed the most votes through the online contest. This win has a particularly special meaning for Sweet Briar, which nearly closed its doors in 2015. Rachel Platten's 'Fight Song' became the rallying anthem for students and alumnae, who raised more than $12 million in a successful campaign that overturned the previous administration's decision to close the College.
"To celebrate the importance of arts in education, Sweet Briar will also receive a $10,000 grant for its music department from Chegg's David B. Goldberg Music Scholarship fund. The classroom takeover will take place before the end of May 2016."
It has since been announced that the concert will take place at 7:30 p.m. Saturday May 7. It is sure to be an amazing event!
And of course Saturday, May 14, is graduation day for our seniors. It is always a beautiful event, and this year's speaker is a successful tech entrepreneur — Leah Solivan Busque '01, founder of TaskRabbit. For more information about commencement, please click here.
Wishing your daughter and your family a wonderful summer! For those whose daughters are not graduating, talk to you next year!